The second generation of the
Padfone
(a combination of smartphone and tablet) is set to be launch in Milan on next Tuesday, October 16.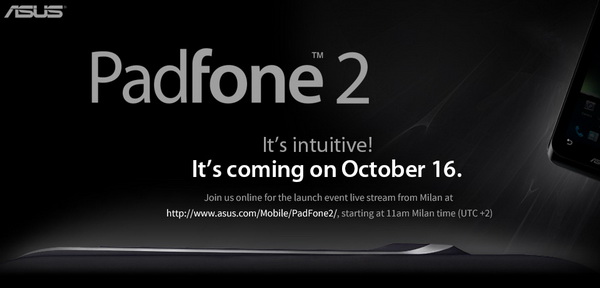 For people who can't make it to the city of Italy to witness the global launch event of
ASUS Padfone 2
, you can watch the event live at the comfort of your home as ASUS has set up a page on its official website to deliver the live stream of Padfone 2′s launch event from Milan.
The launch event will start at 11 am Milan time (UTC +2) or 5 pm the time in Malaysia. So make sure you bookmark the live stream page at
http://www.asus.com/Mobile/PadFone2/
.
According to the leaked information, Padfone 2 should packed with a 1.5 GHz Qualcomm's Snapdragon S4 Pro quad-core processor with 2GB of RAM, running on a 4.7-inch Super IPS+ HD display (1280×720 resolution). Other features include a 13 MP rear camera, a 2140 mAh battery, LTE connectivity, Bluetooth 4.0 and 1.2 MP front-facing camera.