Google Announced New Acer C7 Chromebook with Price Tag of $199

Acer C7 Chromebook
features the same screen size as Samsung Chromebook at 11.6-inch and 1366 x 768 resolution. It is powered by Intel Core processor with 320GB worth of hard disk storage. Moreover, users can also enjoy additional 100GB of free
Google Drive
cloud storage for 2 years. Add them up and you get a total of 420GB space to store files.
Acer C7 Chromebook weighs at 1.4 kg and measuring at 1-inch thick. The laptop boots up in 18 seconds and has battery life of around 3.5 hours. It supports 1080p video playback too.
Other features include built-in dual band Wi-Fi 802.11 a/b/g/n, Ethernet, 3 x USB 2.0 port, a HDMI port, a VGA port and a HD camera. For more information, please visit the
official page
.
The new Acer C7 Chromebook is available online starting today (November 13) in the US at Google Play and Best Buy, and will be rolled out in select Best Buy stores this week. Also, the laptop will hit the UK this week via Google Play, Amazon UK, PC World and Currys.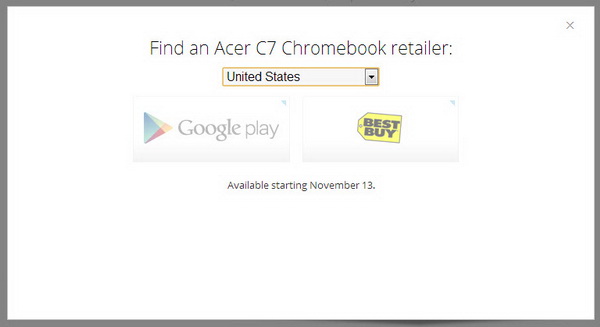 As always, there is however no word regarding the availability of Acer C7 Chromebook in other parts of the world, except the US and UK. Somehow, Google is working hard to bring it to more countries soon.
P.S. : Samsung Chromebook (at $249) has better specs than Acer C7 Chromebook except for hard drive storage. The former has 16GB, while the latter has 320GB of storage.