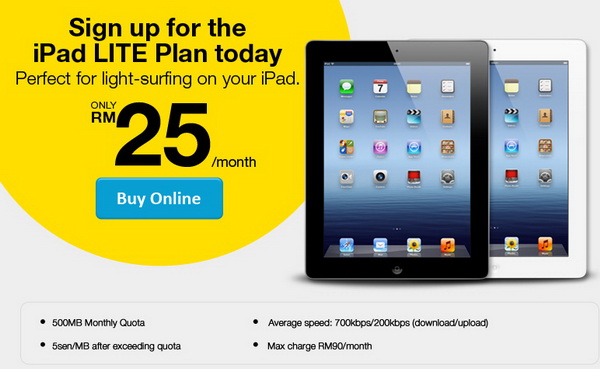 New iPad users in Malaysia can enjoy affordable broadband plan (but with only average download speed of 700kbps) from three data plans on offer by DiGi Malaysia – Lite, Basic and Pro. Each plan is designed to meet different usage needs. The iPad Lite plan (at RM25/month) is recommended for light-surfing on your iPad, comes with monthly quota of 500MB, meanwhile iPad Basic (RM53/month) and Pro (RM83/month) plans have 2GB and 6GB monthly quotas respectively.
The table below shows the available data plans. Please note that the prices shown are after Auto-Billing rebate of RM5. The monthly fees for the iPad Lite, Basic and Pro plans without taking the RM5 rebate into account, should be RM 30, RM58 and RM88 respectively.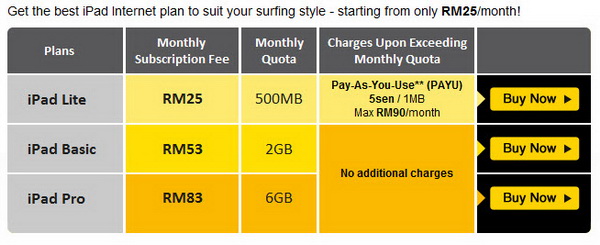 All data plans come with a MicroSIM card and will be available without a contract, providing the freedom to activate a plan at any time. You can subscribe to the iPad Internet Plan online through
DiGi Store Online
. You are required to pay an advanced payment (non-refundable) of RM 50.
Upon exceeding the allocated quota, for iPad Lite plan, you need to pay 5sen/MB for additional bandwidth used. Charges capped at RM90. Meanwhile for iPad Basic and Pro plans, there is no additional charges for exceeding quota, but the internet speed will be throttled to 128 kbps, from the likely average speed 700kbps/200kbps (download/upload).
For more information on the DiGi New iPad Internet Plans, please hop over to
http://www.digi.com.my/internet/tablets/ipad_data_plans.html