Finally the face of the man who injured 23 victims in KL by splashing acid has been REVEALED.
Police has
released a photofit of the serial acid splasher yesterday based on the information given by a witness.
Apparently the witness have seen a possible attempt by the acid splasher suspect in Jalan Desa Panda yesterday. It is reported that the man was riding a black Honda EX5 bike and he was about to uncap a plastic bottle (believed to contain acid). However the man quickly fled after realizing he had been spotted.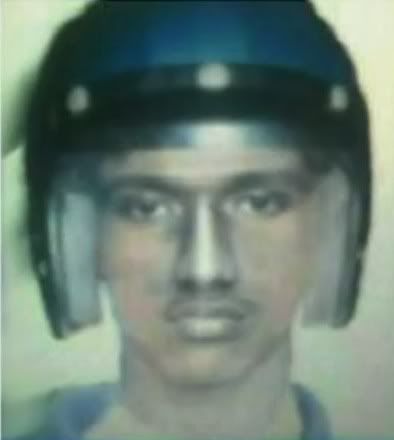 Face of the Serial Acid Splasher.
Ask your family and friends to be more careful when they happen to see someone who resembles this man. We must be more careful until the police manage to nab this crazy man. If you are still clueless about what is happening do read my other post:
Track down the acid splasher in KL: 8 Things You Can Right Now
. And if you think you might have seen this man with dark complexion and suspected that he is the serial acid splasher, do contact the police at
Rakan Cop Hotline (03-2115 9999)
or
SMS
to
POLISKL at 32728
. Let's look after each other, especially those in KL. We don't another more innocent life be harmed by this lunatic serial acid splasher!