I've always wanted a tablet PC, but I never really wanted a 10" Tablet, and the 7" tablets on the market were generally from companies that I'd consider to be "no brand", or they were simply too expensive for the specifications that they offered.
Along came Google with their Asus manufactured Nexus 7, which offers an IPS screen, 16GB NAND, 1GB RAM and running the latest version of Android, Jelly bean. All while coming in at 7" and a knock out price of only £199.99, as well as coming with £15 worth of credit on their app store the now named; Play store.
For the more budget aware of us out there, they also had an 8GB tablet of the same specifications that came in at £159.99 as well as coming with the £15 credit.
Initial impressions
Having used other tablets previously, such as the iPad 2 and two ICS tablets from Samsung and Asus (Friend's laptops) I was eager to see how the interface and general usability felt, as from my personal perspective I find the iPad 2 with IOS to be smoother than the ICS tablets I used, I'm glad to say that the general smoothness of Jelly bean rivals the feelings that I had when using the iPad 2.
The tablet in my hand felt very smooth, it didn't feel too big, nor did it feel too small. Google seem to have hit the nail on the head with regards to the form factor. One thing I did notice however is that my phone felt smaller after having a play with the Nexus and my phone's anything from small having used my brothers Xperia U and finding it too small.
The Nexus 7 has a silver trim going along the device and the back comes in either black or brown. The back of the device is nicely textured displaying the Asus name; it feels nice to the touch and is comfortable in the hand. The Device overall feels very solid while being rather light so you're not going to get tired from used it for prolonged periods of time.
Specification
The specifications of the Nexus 7 16GB are as follows.
Internal Storage 16GB
7" 1280x800 IPS Display
1.2MP Front-Facing Camera
1GB RAM
Wi-Fi 802.11 b/g/n
Bluetooth
Micro USB Slot
Tegra 3 Quad Core CPU
198.5 x 120 x 10.45mm
340g overall weight
The Tablet itself (Features, Software etc.)
Upon setting up the Nexus 7 (Logging into my Google account, setting up my E-mail) I'm now able to go through actually using the tablet and how it copes in everyday use, watching movies, listening to music, browsing the internet and what I think about it.
The Nexus 7 comes pre-loaded with a the latest Transformers movie that is able to be streamed via the Google service, it also comes with the "Only time will tell" book from Jeffery Archer, as well as a guide book of the Nexus 7, the books will be ran in the Google's book application. I've also heard instance of them coming with a sample of the Game of thrones.
The below image was taken from my Nexus 7 using the screenshot feature to show you how the library at default is organized and the pre-loaded items that come with it ;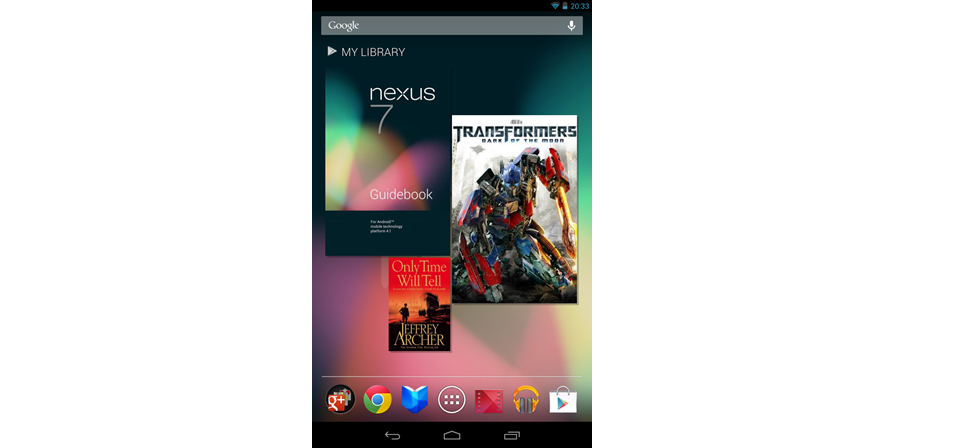 Google Nexus 7 - Review
On the image, you can also see the default launcher which has a selection of apps that you can launch. You can see Chrome, Google Music, Movies and Books as well as the play store. The furthest most left side has a few apps that can be launched from it, ranging from Google+ to Gmail. At the bottom, the left side is "Back", the middle is "Home" and the right icon brings up all the open applications, which you can either use to quickly change from one application to another, or you can also use it to end applications quickly. Here are two images to show that right icon as it comes in very handy;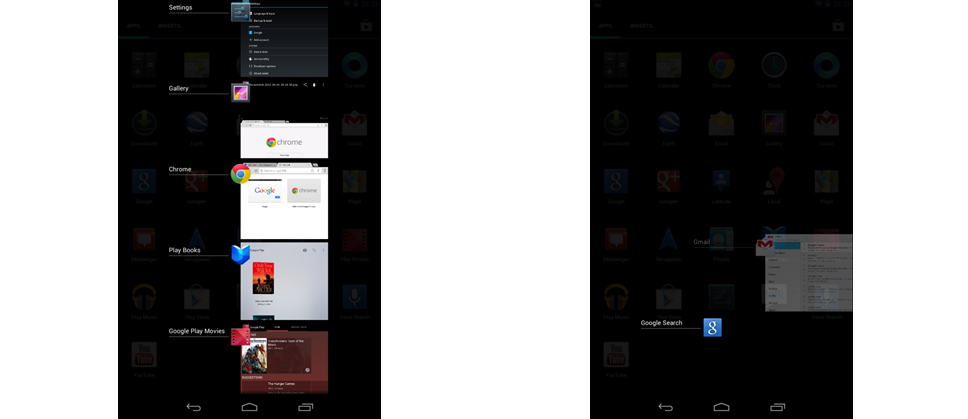 Google Nexus 7 - Review
Closing the applications is done by sliding your finger left on the application as dictated by second image.
The next thing I'll talk about is the menu. For those of you who have already used Ice Cream Sandwich you won't find any surprises here, it's pretty much laid out exactly the same way, using the same icons and then also sliding past the menu to bring up the "widget" menu, or if you've got more than one page of applications, you can always press the widget tab to bring that menu up. There's also a quick launch for the play store at the top right.
Here's the image: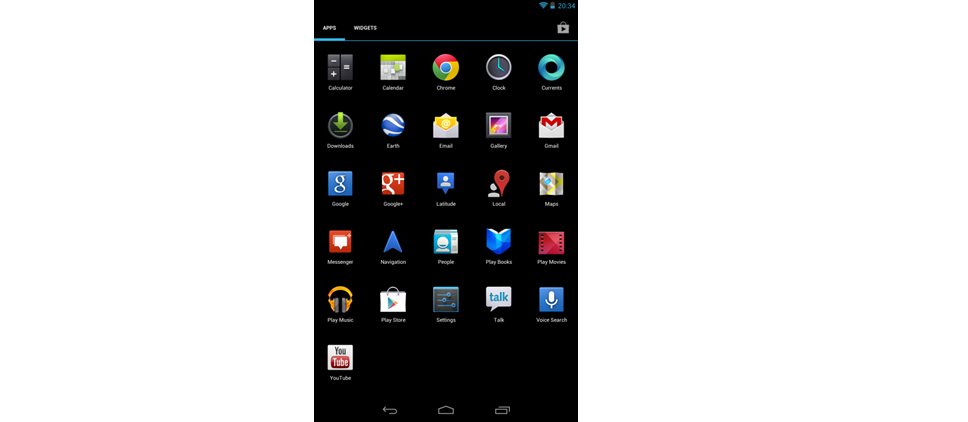 Google Nexus 7 - Review
Quite a nicely laid out menu, plenty of space between each icon, the icons all look fairly colorful.
As you can see, there's the apps and widgets tab at the top left, and the play store shortcut at the top right.
Now we've seen some aspects of the Nexus 7 software, I'll bring you to showing its browsing capabilities.
In the next image I've gotten for you, I'm still running the tablet in portrait. Opening up Chrome and bringing up the on the screen key pad;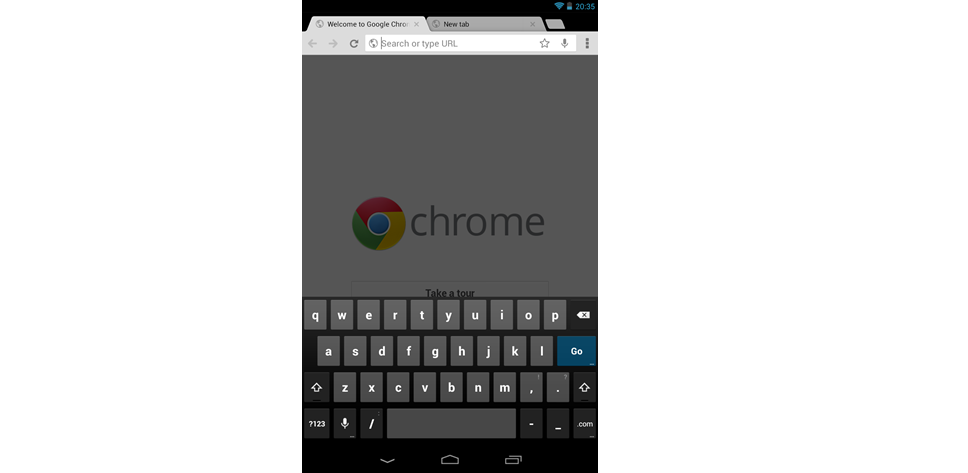 Google Nexus 7 - Review
The on screen keyboard is easier to type on than I thought it'd be. I didn't accidently press any keys at all and it was able to register the input very well, but it's still no replacement for a dedicated keyboard. The keys are separated a fair amount of distance each, the space bar is nice and big. You can see the microphone icon next to the left of the forward slash, clicking this allows you to speak words, although I found it useful when I was only saying a single word or two (Which was more helpful for when searching for applications)
Chrome opens up with 2 tabs, it again also has a built in speech to word microphone. Browsing on the device was similar to a laptop, except with a different medium of input and being portrait. You can request to use the desktop version of a site, as I know some mobile sites aren't quite as easy to navigate as the desktop site (Too simple if you would call it that)
When you're browsing the internet however, portrait mode might not be the easiest and most comfortable. I decided to turn the tablet, run it in landscape. It made a different to navigating as you can imagine, when we're on a computer we're all essentially navigating landscape;

Google Nexus 7 - Review
As you can see, it looks much nicer to use, very much emulating how you'd browse at home or on a laptop, also gives more real estate so the websites don't look quite as "compact" and "busy".
One very nice feature I found in the Nexus 7 when browsing, was that when you've went to press a link that's also close to another link and the software is unable to make out the ambiguous touch, it will do as below in this picture:

Google Nexus 7 - Review
Essentially zooming in upon a section and bring it up so that you're able to press the link that you wanted. This helps to prevent going to the wrong link that you wanted. What's more impressive about it, is even though it's made it much bigger, it doesn't become pixelated as it would if you were to take that small part of the site and stretch it.
For playing movies and other content you'd be better off downloading MX Player (With the hardware codec) or BSPlayer from the Play Store as unfortunately the default player on the Nexus 7 doesn't support as many different file formats as the previously mentioned applications do.
For playing HD content, I found that I was best encoding my content on my PC using handbrake with the AppleTV2 preset. I'd hope that eventually handbrake gets a Nexus 7 preset. The Nexus 7 handles HD content very well, much better than my Samsung N150 Plus ever could.
The built in speakers on the Nexus 7 are fine for when you're in a house and it's quiet around you, watching a film occasionally, but they're not very loud or powerful and I'd certainly recommended that if you intend to use it frequently for music and watching content that you invest in either some small dedicated speakers for it (That fit alongside the Nexus 7 in a stand) or get some headphones.
The Nexus 7 display I was quite impressed with. With it being an IPS monitor there wasn't any problem with viewing angles either. Colours reproduction was very nice and bright, again much better than my Samsung N150 Plus Netbook. The Nexus 7 also uses scratch resistant glass, I didn't find it easy to scratch and I would use my Nexus 7 quite frequently.
Conclusion
Overall I find the Nexus 7 a very nice tablet, it's not expensive, and it's not slow by any stretch of imagination. With it being Google's device it will have very good software support for future versions of Android and any updates to the current iteration of Android (With it having 1 update when I first switched the device on)
For some people this device could quite easily replace their laptop (Which is the reason I opted for one) however there are some draw backs with this device. The limited storage capacity could be a problem for some people who may want to carry their music with them. For a device that's geared towards using Cloud Storage and streaming, it seems slightly weird there's no built in 3G (There are however rumours of a 3G model coming at a higher price, but that remains to be seen). The limited internal storage wouldn't be an issue if the device has a micro SD slot, however it lacks one. You can use a USB OTG cable to have some extra storage, but that means you've got cables dangling, which can limit its portability slightly, and it's far from slick. The lack of a micro HDMI port I also find a little bit of an annoyance, but it's a very minor one. Another feature I'd like to have seen is being able to connect my tablet up to my 22" LG like I did with my netbook.
One very good aspect to the Nexus 7 is the competition it now brings to the market, with Acer making a 7" Tablet around the 180 pound region with similar specifications, however it has the Micro SD and Micro HDMI port that I'd like from the Nexus.
If anyone's after a tablet for 200 pounds, then the Nexus 7 is a VERY good choice, its limitations may not be a problem for some people, the 3G can be worked around quite easily by tethering it to a smart phone and they may not need extra storage or HDMI. Therefore this product I can whole heartedly recommend.