The people over Halfbrick Studios celebrated the two year anniversary of
Fruit Ninja
with the biggest update ever for iOS platform! Even better, you can download the popular fruit slicing iOS game for free. Read on to find out how.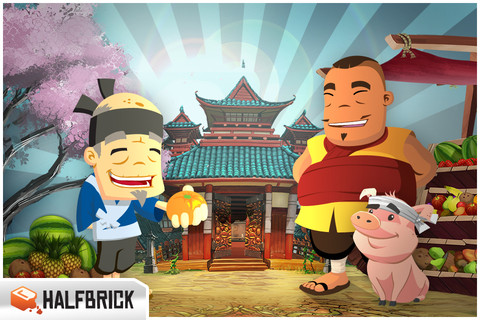 Fruit Ninja, now carries version 1.8, comes with a range of new features and awesome characters (Travelling merchant Gutsu and his porky pal Truffles) to ramp up the excitement. The new features include the introduction of Starfruit currency at which you can use it to buy items and power-ups from Gutsu's Cart. Some notable power-ups include Bomb Deflects, Berry Blasts and Peachy Time.
At the mean time you may want to watch trailer video where you get to see Gutsu and Truffles inside.
How to Download Fruit Ninja for Free?
You will need to get a free code to redeem the game. To do so, simply this
promo page
. Click on the
Click Here to Redeem
link located at the top right of the page.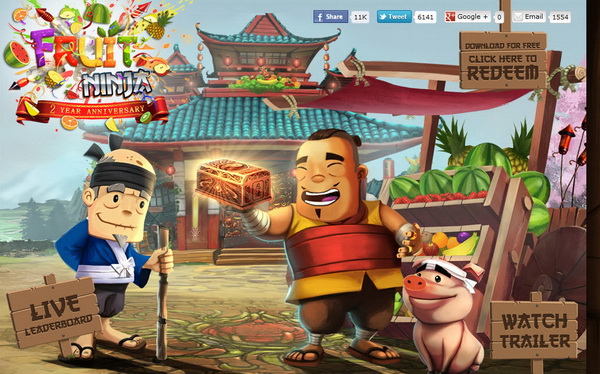 Select your country, enter a valid email address and correct captcha code. Click
Continue
to submit your request for free redeem code.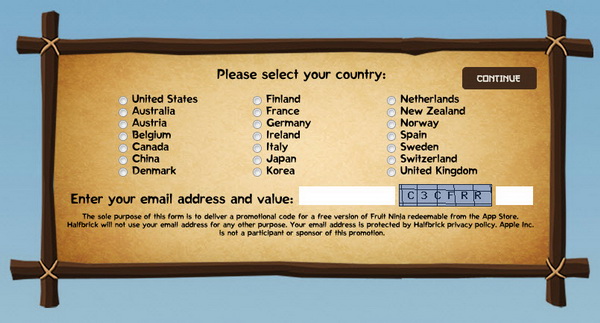 The free code will be sent to your email inbox. Follow the instructions in the email to redeem your Fruit Ninja app. Make sure you make the redemption before June 30, 2012.
Note :
The code is only valid for customers of the France, Netherlands, S. Korea, Norway, China, Belgium, Sweden, Finland, Canada, USA, Denmark, New Zealand, Switzerland, Spain, Austria, Germany, United Kingdom, Italy, Australia, Ireland or Japan Store.