This is a guest post by James Adams. If you would like to contribute too, please leave us a message via the contact us page.
Facebook's new Timeline cover photo offers creative people many ways to express themselves using the combined format of the Timeline cover photo and the profile photo.
The timeline cover photo measures 854 pixels wide and 323 pixels tall and features as a banner across the top of the
Facebook
profile
page
. The
profile
picture
sits near the bottom left hand corner of the Timeline cover, which it partially overlaps and fronts. The profile photo measures 125 pixels x 125 pixels.
Facebook
users
have already demonstrated some amazingly creative ways to use the new Timeline cover photo together with the profile photo. Most of the best ideas involve combining the two pics into one composite photo.
Here are examples of some truly awesome
Facebook Timeline cover images
.
1. Ekkapong Techwongthaworn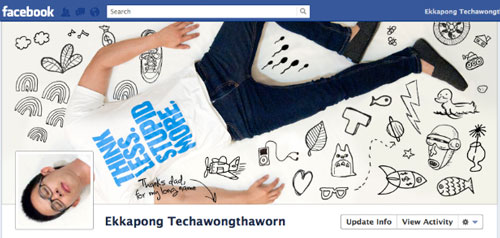 Ekkapong Techawongthaworn's Timeline creation is a great example of fusing the cover photo and the profile photo together into one composite whole. The cover photo also includes some interesting artwork and a funny message about the user's long name.
2. Aly Moffat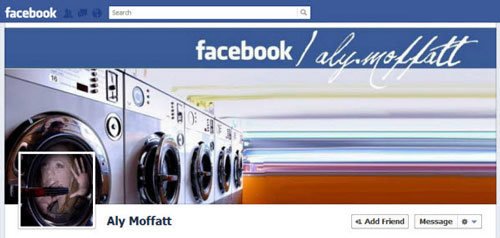 Another nice composite photo comes from Aly Moffat who uses a Laundromat scene and includes herself in the cover photo as if trapped in one of the washing/drying machines. The photo has nice color styling and includes a recreation of the Facebook top
menu
bar with her apparently handwritten signature.
3. Erik Shabaz Mehdi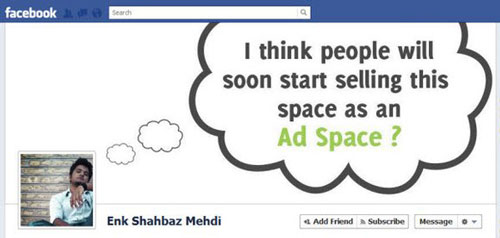 Another popular way to use the Facebook Timeline cover photo is to create a thought or speech "bubble" or "cloud" originating from the profile photo as shown here in Enk Shahbaz Mehdi's profile. In this case, Enk adds what may be a little humor by offering to sell the cover photo space for advertisements. Or maybe he is serious?
4. Oliver Alexander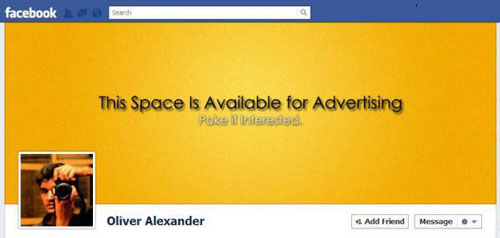 Oliver Alexander also uses a little humor by advertising his Facebook Timeline cover photo space out for rent. The invite to poke is a great way to break the ice with new friends. In many cases,
Facebook
users
may be advertising their own professional creative skills in the cover photos.
5. Jeremy Bronson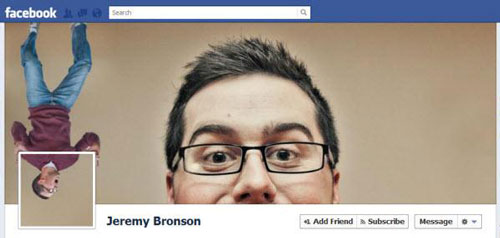 Jeremy Bronson's Timeline cover photo is another good example of connecting one's body across the cover and profile composite canvas. In this case, Jeremy on the left is looking at Jeremy on the right giving viewers a good laugh.
6. Victor Zapanta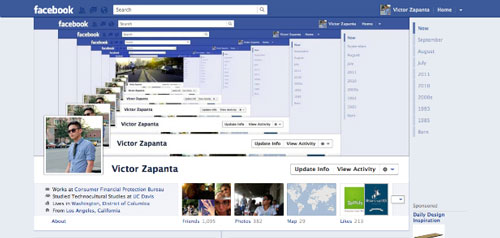 In this Facebook Timeline cover photo, Victor Zapanta gives a good example of a mirroring effect as occurs when you face two mirrors together or point a camera at a mirror. A visually stunning impact but maybe it is a little disconcerting at the same time. At least, the repetition of his name might help people remember him better!
7. Sune Adler Miltersen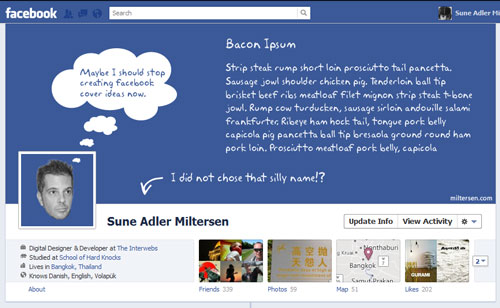 Sune Adler Miltersen uses the thought cloud technique humorously by making fun of his own creative process. The randomly-created text near the center and the pointer at his profile name together with more self-deprecation add to the hilarity of the composition.
Here is another creation by Sune Adler Miltersen that combines the Timeline cover photo and the profile photo together in a poster board composite. Included are some humorous notes and an ad for friends to interact on his personal website.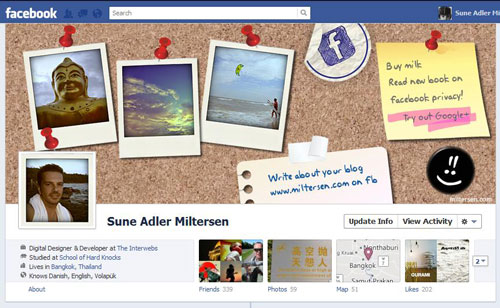 8. Fabio Maravilla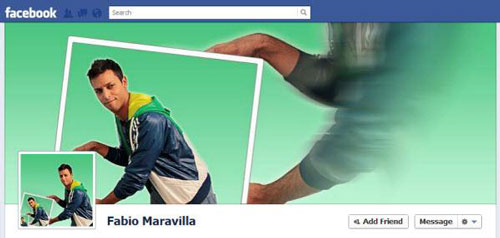 Another example of the mirror effect, in this case by Fabio Maravilla. The interesting thing about this combination of Timeline cover and profile photo is the use of the alternating angles in which Fabio "holds" his own photo.
9. Guiseppe Draicchio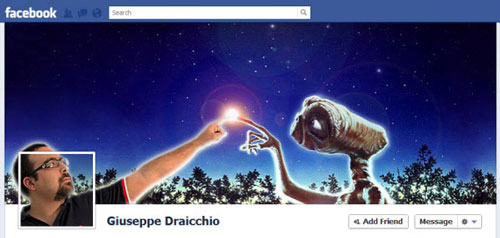 Have to love this creative composite image by Guiseppe Draicchio who uses the beloved ET character from Steven Spielberg's classic to create an encounter of the Facebook kind. This looks like original artwork, and it shows how the Facebook Timeline cover photo provides a good showcase for professional and amateur talent.
10. Maggie Lin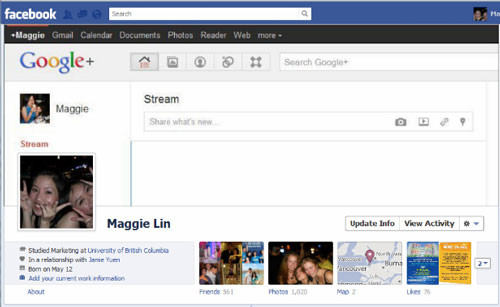 Another popular way to use the Timeline cover photo is to insert one's profile from another social media
network
. In this example, Maggie Lin, uses her Google+ profile page in a move that might not please Mark
Zuckerberg
!
11. Rayson Esquejo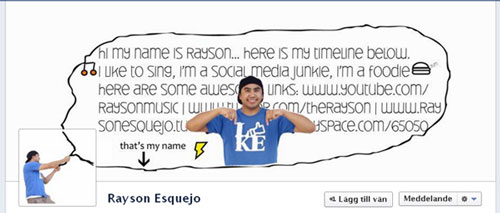 A nice composition by Rayson Esquejo that uses a speech bubble to advertise his foodie page on YouTube. The site also uses the technique of pointing at one's profile name from the cover photo. You can also point at your name from the profile photo. A good way to promote name recognition!
How to create Facebook Timeline cover images
While it is possible to measure out the proportions of the Timeline cover photo and the profile photo and create a composite image from scratch, there are applications out there that simplify the process. One of them is the
Schweppes Profile App 2.0
.
Many of the cover applications are free and they provide an easy interface and step-by-step process for merging the two photos. Of
course
, if you have media and graphic skills already, you should have no problem composing a cover using Photoshop or other popular graphics software.
Of
course
, the examples above are just some of the many creative designs out there, but we think they are particularly awesome.
This article was written by James Adams. He blogs for a major British
printer cartridge supplier
, and also creates content related to
HP printer cartridges
when he's not busy surfing
the
internet
.