ASUS Malaysia has sent out invitations to select media friends to attend the launch event of
Padfone 2
– the second generation of the Padfone smartphone and tablet combo. The event is scheduled to take place on Thursday, December 13 in Kuala Lumpur.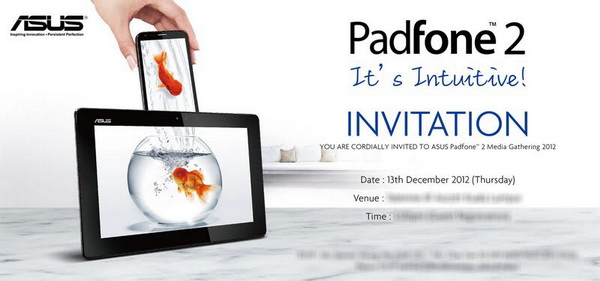 Padfone 2 made its first debut on
October 16
. In addition to Malaysia, the smartphone/tablet combo will be available by the end of year in Europe (Bulgaria, Estonia, Finland, Germany, Hungary, Italy, Poland, Portugal, Romania, Spain, and Sweden) and Asia (Hong Kong, India, Japan, Singapore, Taiwan, Thailand, and U.A.E). Our neighboring country, Singapore has already got their hands on Padfone 2 last month.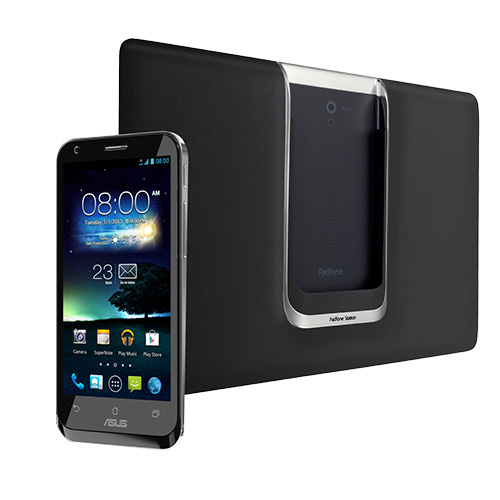 Padfone 2 is available in black and white flavors, with three models for sale – 16GB, 32GB or 64GB. For market in Malaysia, we expect only two models – the 32GB and 64GB to launch here.
No word on the pricing and availability yet, not until the launch date. Our wild guess is that the Padfone 2 will go on sale in Malaysia on Friday, December 14, yes just in time for Christmas. As for the pricing, let's check out the prices in Singapore before making any guess.
In Singapore, Padfone 2 smartphone is retailed at S$848 (RM2119) and S$988 (RM 2469) for 32GB and 64GB model respectively. Padfone 2 tablet dock station is selling separately at S$328 (RM 819). Padfone 2 can be purchased together tablet station for $1,099 (RM 2746) for 32GB model and $1,239 (RM3096) for 64GB.
We hope the prices will be cheaper here than our Singapore counterpart.